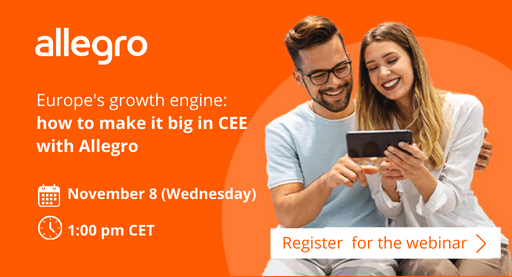 E-commerce in Central and Eastern Europe is developing quickly thanks to rapidly-growing interest in online shopping and a vibrant digital landscape. Some of Europe's most exciting e-commerce opportunities are now in the east, but accessing them requires thorough market research. In order to expand successfully, you need to understand local buyers and the e-commerce dynamics in the region – let Allegro be your business guide to success.
Learn about e-commerce in CEE and Poland, and the local buyer's profile. Find out how to expand through a strong local marketplace – Allegro. Discover key success factors and cross-border expansion opportunities with us!
Join the webinar:
Learn how to expand your business with Allegro – the most popular marketplace across the CEE
Discover practical tips on how to be successful on the platform and how to boost your sales through special programs or through using One Fulfillment by Allegro.
Learn how an established marketplace can help you overcome cross-border barriers.
We will help you identify key success factors and design a winning strategy for a smooth expansion to Poland and other CEE markets.